Eavestroughing Services in Saskatoon

Serving Saskatoon and Surrounding Areas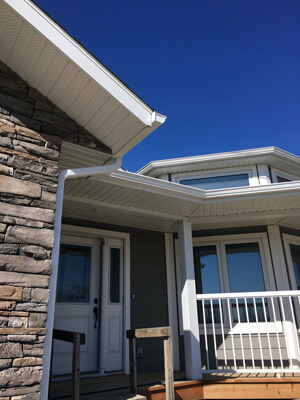 Norpine Eavestroughing & Exteriors' product quality greatly exceeds that of our competitors throughout Saskatoon and the surrounding areas. Martin is involved with every installation directly. We will make repairs on any of the products we sell, whether you purchased them from us or not. Contact us to place an order or to find out more about our products.
5" Seamless Eavestroughs
We form 5" seamless eavetroughs to your exact measurements. There are several colors available, in .032 gauge aluminum to contrast or match your home's exterior colors. Our sturdy eavestroughs catch leaves and other debris, while ensuring water flows through your downspout to prevent pooling of excess moisture. Leaf protection features block large debris from sticking to the screen, while clearing water into the gutter. Each eavestrough section is easy to install and is virtually maintenance free. Our high quality gutter material will not crack, peel, split, rot or rust.
Hangers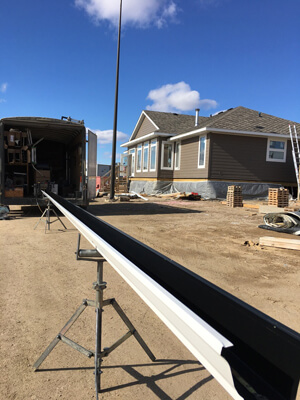 Norpine Eavestroughing & Exteriors sells eavestroughing heavy-duty, screw-on hangers that are available in bulk. We do the installation for you, from a small area to a large commercial building, with as many as you need. Our heavy-duty hangers have a screw set in them, so the screw is not a separate application. This design allows for much greater strength and durability. We have several options available, in chrome or copper. Choose from 5" or 6" standard, heavy-duty, one-piece gutter covers and gutter wedges. Keep the water flowing off your roof by supporting your gutters with our weather resistant, high quality hangers.
Other Product & Services
We carry and install soffits and facsias, and perform maintenance free window and door cladding. Our installation of soffits and facias will provide enhanced ventilation, while extending the life of your home's shingles. Our maintenance free window and door cladding is available in all different colours and profiles. You will be able to decide what style will best improve the look of your windows and/or doors, all while protecting them from wind, rain, snow and even sun. Both of these products and services will protect your home's exterior from the elements and at the same time, improve the look and value of your home.